The CFEETK is pleased to share the call for abstracts for the Nile's Earth International Conference (4-6 July 2023).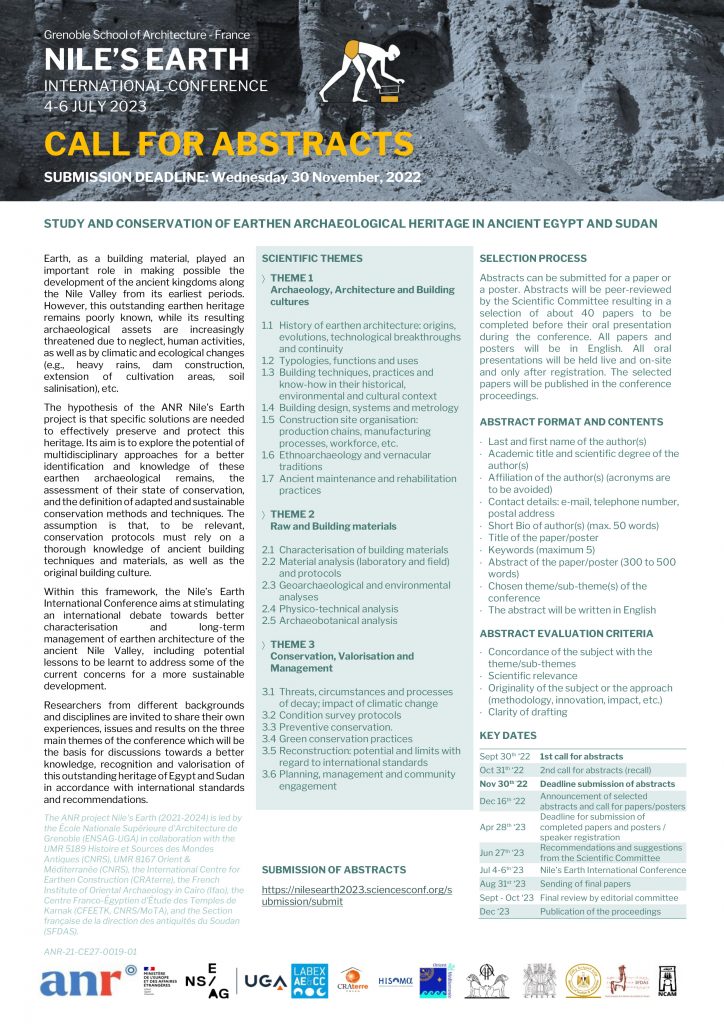 NILE'S EARTH INTERNATIONAL CONFERENCE (4-6 July 2023)
Study and conservation of earthen archaeological heritage in ancient Egypt and Sudan
Abstracts can be submitted for a paper or a poster. Abstracts will be peer-reviewed by the Scientific Committee resulting in a selection of about 40 papers to be completed before their oral presentation during the conference. All papers and posters will be in English. All oral presentations will be held live and on-site and only after registration. The selected papers will be published in the conference proceedings.
SUBMISSION DEADLINE: Wednesday 30 November, 2022
ABSTRACT FORMAT AND CONTENTS
×   Last and first name of the author(s)
×   Academic title and scientific degree of the author(s)
×   Affiliation of the author(s) (acronyms are to be avoided)
×   Contact details: e-mail, telephone number, postal address
×   Short Bio of author(s) (max. 50 words)
×   Title of the paper/poster
×   Keywords (maximum 5)
×   Abstract of the paper/poster (300 to 500 words)
×   Chosen theme/sub-theme(s) of the conference
×   The abstract will be written in English
ABSTRACT EVALUATION CRITERIA
×   Concordance of the subject with the theme/sub-themes
×   Scientific relevance
×   Originality of the subject or the approach (methodology, innovation, impact, etc.)
×   Clarity of drafting
SUBMISSION OF ABSTRACTS
https://nilesearth2023.sciencesconf.org/submission/submit
Download the call for abstract
Official Website / Hypotheses.org Notebook
30 octobre 2023 par Jérémy Hourdin
26 septembre 2023 par Jérémy Hourdin
20 septembre 2023 par Jérémy Hourdin